well at least inside my house it is. Ok people-Im ready for fall even if its not ready for Texas! I know, I know, school hasnt even started and Im decorating for Fall. But hear me out- I have a baby coming in less than 4 weeks- if I wait till Fall it will be Christmas before I get the stuff put out. So Im decorating for Fall plus The Nester from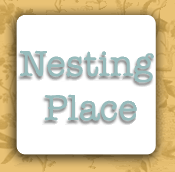 My little "niche" in the entry way- one day I WILL paint that-but I have to paint the rest of the room too and its 2-stories high *sigh*- I dont even own a ladder that tall!
Dining room table
A little something for the stairs
oooo I made this myself- went to Hobby Lobby got it all for half-off. This little guy only cost me $7.00 to make- yippie!!!
Another view of the table
sooo I will be posting more one I get the boxes down from the attic. and um yes I did climb my preggo self up the attic ladder today to get something down-shhhh dont tell my hubby. I did decide not to do that again!
Oh-AND AND AND- I will soon be posting some of my own window "mistreatments" (go visit The Nesting Place)